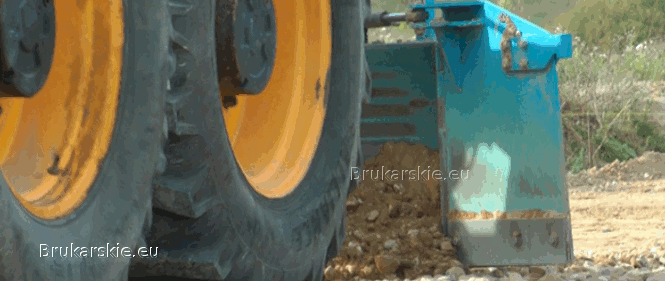 Łata sterowana automatycznie Profiler Jazon
Nic już nie będzie takie jak było i nikt nie zechce wracać do dawnych czasochłonnych metod profilowania - jeden warunek - trzeba dać szansę jednej z łat profilujących sterowanych automatycznie firmy Jazon.

Łata automatyczna Profiler 01 Jazon
Łata sterowana automatycznie Profiler 01, Profiler 02 Jazon
Przeznaczona do precyzyjnego profilowania, wyrównywania i wygładzania podbudowy, sterowana automatycznie, zapewnia najwyższą jakość pracy, wysoką wydajność, wszechstronność oraz absolutną satysfakcję tak dla właściciela jak i operatora. Wartością dodaną jest bezdyskusyjny prestiż w otoczeniu i wobec inwestora, wszak łata sterowana automatycznie Profiler to maszyna z najwyższej półki.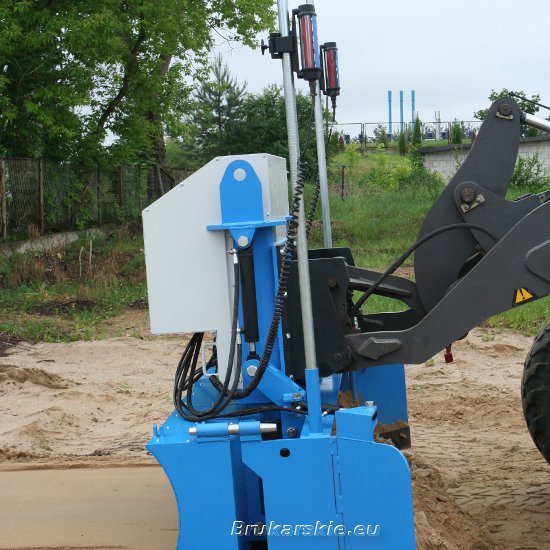 Profiler 01 Jazon - widoczne czujniki laserowe
Łata automatyczna Profiler 01 lub Profiler 02 Jazon służy do niwelacji i profilowania ciągów pod budowę dróg, chodników, ścieżek rowerowych, parkingów, placów budowy, boisk itp. Łatą można profilować zastany grunt rodzimy, piasek, żwir, tłuczeń.
Profiler jest szczególnie przydatny tam, gdzie liczy się precyzja, wysokie tempo pracy. Biorąc pod uwagę fakt, że operator ma komfortowe warunki pracy, Profiler może pracować całymi godzinami bez zbędnych przerw.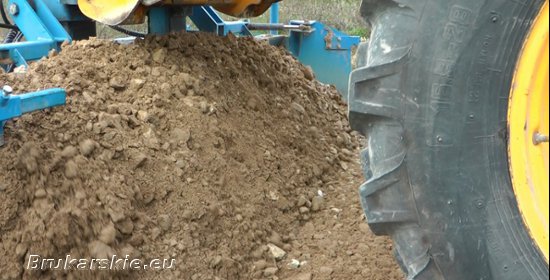 Łata automatyczna Profiler - profilowanie podłoża z tłucznia

Profiler 01 oraz Profiler 02 - różnice konstrukcyjne
Profiler 01 ma dwa niezależne lemiesze do zgarniania i wygładzania przy kierunku pracy tył/przód. Lemiesz tylny ma otwierane klapy boczne, które poszerzają szerokość roboczą o 50 cm. Są one również bardzo pomocne do przytrzymania urobku. Klapy są sterowane hydraulicznie. Lemiesze są spięte ze sobą w jeden zespół. Możliwe jest rozpięcie lemieszy, wtedy przy kierunku pracy w tył, tylny lemiesz (jako pierwszy w pracy) zgarnia nadmiar materiału i niweluje, drugi wstępnie zagęszcza i wygładza. Jest to rozwiązanie niezwykle pomocne przy przygotowaniu planty pod polbruk, płyty betonowe itp. Profiler Jazon może być zamontowany na koparko-ładowarce lub ładowarce, które spełniają kryteria udźwigu oraz wydatku hydrauliki.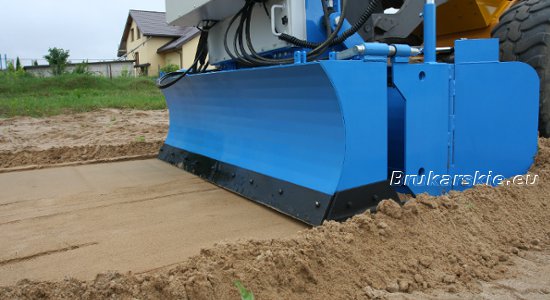 Profiler 01 - widok na dwa lemiesze
Profiler 02 ma jeden lemiesz do pracy z kierunkiem jazdy w tył. Od przodu ma wbudowaną łyżkę transportową, co umożliwia samodzielny dowóz materiału lub odwiezienie nadmiaru.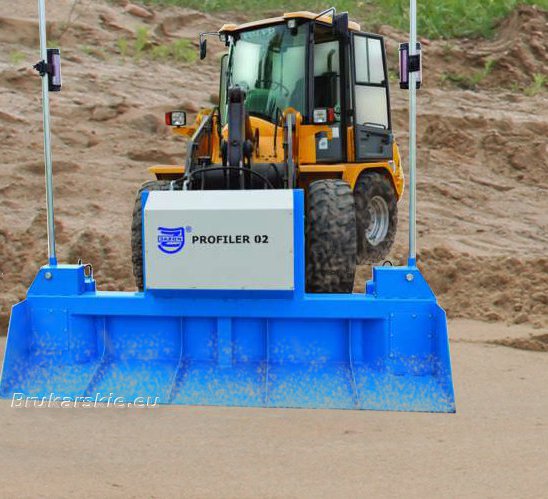 Profiler 02 Jazon - wyrównuje, profiluje, transportuje

Łata profilująca Jazon Profiler 01, Profiler 02 - wersje sterowania
Sterowanie 2D - czujnik ultradźwiękowy, Sterowanie 2D - laser,
Sterowanie 3D - tachimetr, Sterowanie 3D - GPS
Korzyści:

Zastosowanie jednego z systemów daje nadspodziewanie duże korzyści w kilku obszarach, są to koszty pracy osobowe, koszty pracy maszyny, oszczędność materiałów oraz - co najważniejsze - rośnie jakość wykonywanych prac.
Wyeliminowane jest nabijanie palików, przeprowadzanie częstych pomiarów kontrolnych, znacznie zmniejszona jest ilość przejazdów dla dokładnego wyprofilowania. W wyniku czego pożądany efekt osiąga się w krótszym czasie pracy operatora i maszyny. Dokładność pracy pozwala również na znaczną oszczędność materiałów budowlanych.
Kontrola pracy odbywa się automatycznie, istotnie maleje ryzyko popełnienia błędu przez człowieka. Do obsługi Profilera z jednym z automatycznych systemów sterowania może być zatrudniony operator o mniejszym doświadczeniu i umiejętnościach, w dość krótkim czasie będzie on w stanie pracować wydajnie i precyzyjnie oszczędzając czas i pieniądze wykonawcy robót.
Precyzyjne sterowanie hydrauliką maszyny za pośrednictwem elektrozaworów zapewnia płynne prowadzenie lemiesza bez nagłych uskoków. Pracuje się elastycznie, bez nagłych przeciążeń.
Sterowanie 2D - czujnik ultradźwiękowy
Czujnik ultradźwiękowy przekazuje dane z odczytu do komputera zainstalowanego w kabinie operatora. Dodatkowe dane przesyła czujnik pochylenia poprzecznego lemiesza. Komputer analizuje informacje i porównuje je z parametrami wprowadzonymi przez operatora. Korekta ustawienia lemiesza odbywa się w czasie rzeczywistym.
Punktem odniesienia dla czujnika jest rozciągnięta linka lub górna płaszczyzna ustawionych krawężników. Czujnik czyta również z już wyrównanej nawierzchni.
Czujnik zamontowany jest na jednym z wysięgników, które połączone są z klapami bocznymi Profilera.
Czujnik sam pilnuje swego położenia nad linką lub krawężnikiem, a w przypadku niewielkiego oddalenia się maszyny od krawędzi czujnik automatycznie otwiera klapy boczne Profilera. Zwiększenie szerokości pracy niweluje brak precyzji w prowadzeniu maszyny oraz przybliża czujnik do linki lub krawężnika.
Czujnik jest idealnym urządzeniem do pracy na wąskich traktach ograniczonych krawężnikami (wąskie uliczki, trakty dla pieszych, ścieżki rowerowe itp). Nie wyklucza to stosowania czujnika przy niwelacji na dużych powierzchniach, jednak przy użyciu lasera lub tachimetru wykonanie większych zadań będzie łatwiejsze.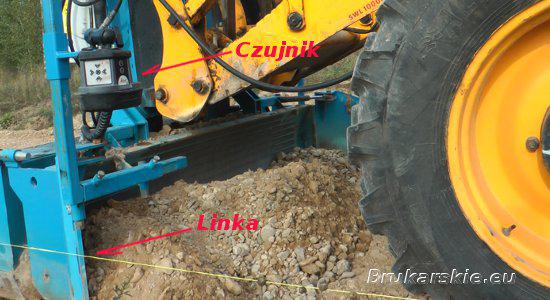 Czujnik ultradźwiękowy SH 14
Sterowanie 2D - laser
Laser daje stałą płaszczyznę odniesienia w zasięgu swojego działania - w zależności od użytego modelu - nawet do 750 m. Dwa czujniki na masztach Profilera odbierają sygnał, który następnie jest analizowany przez komputer zainstalowany w kabinie operatora. Dodatkowych informacji udziela czujnik pochylenia poprzecznego lemiesza. Komputer w miarę potrzeby za pośrednictwem siłowników hydraulicznych dokonuje zmiany ustawienia lemiesza. Kontrola odbywa się w czasie rzeczywistym - wielokrotnie w ciągu sekundy - i jest w pełni automatyczna. Operator skupia się na prowadzeniu maszyny. Dokładną niwelację osiąga się w bardzo krótkim czasie, nawet jednego do trzech przejazdów.
Sterowanie laserowe umożliwia obróbkę wszystkich prostych projektów budowlanych.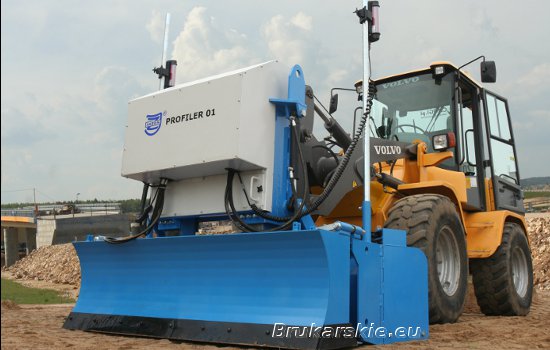 Łata Profiler z czujnikami laserowymi na masztach
Sterowanie 3D - tachimetr

Ustawiony i zorientowany tachimetr śledzi pryzmat zainstalowany na maszcie Profilera. Na bieżąco, wielokrotnie w ciągu sekundy ustala pozycję pryzmatu, a więc i pozycję lemiesza. Przekazuje informacje o aktualnej pozycji do komputera pokładowego. Komputer otrzymuje również sygnały od czujnika pochylenia poprzecznego lemiesza. Informacje te są porównywane z danymi w projekcie. W zależności od potrzeby korygowane jest ustawienie lemiesza. Precyzyjne śledzenie lustra oraz bardzo szybki komputer pokładowy pozwalają na prowadzenie błyskawicznych obliczeń, dlatego bieżące korekty ustawienia lemiesza - za pośrednictwem siłowników hydraulicznych - wykonywane są natychmiast. Proces ten przebiega
w pełni automatycznie, płynnie i niesłychanie dokładnie.
Zadaniem operatora jest skupienie się na prowadzeniu maszyny.
Zasięg działania tachimetru w zależności od użytego modelu do 750 m.
Sterowanie tachimetrem umożliwia obróbkę nieomal wszystkich projektów budowlanych, nawet tych bardzo skomplikowanych.
Wyjaśnienia dodatkowe:
Tachimetr
Tachimetr jest instrumentem stosowanym w geodezji, za jego pomocą wykonuje się pomiary kątów poziomych, pionowych oraz odległości. Są dwa rodzaje tachimetrów optyczne
i elektroniczne. Tachimetr optyczny do wykonania pomiaru potrzebuje pryzmatu (zwanego też lustrem). Fala wysłana przez tachimetr odbija się w lustrze, wraca do tachimetru i tam automatycznie zostaje obliczona odległość pomiędzy tachimetrem a lustrem.
Komputer pokładowy
Bardzo szybki komputer zainstalowany w kabinie maszyny nośnej. W komputerze jest wgrany projekt budowlany (placu, drogi itp.). Projekt wgrywa się za pośrednictwem karty pamięci.
Sterowanie 3D - GPS

Przewaga GPS nad tachimetrem polega na tym, ze maszyna po wjechaniu na plac budowy znajduje swoją pozycję, koryguje ją przez stację bazową i już może pracować. Nie ma potrzeby rozstawiania tachimetru oraz orientowania go w terenie.
Jest to dobra metoda, należy jednak pamiętać, że tachimetr zapewni większą dokładność prac od komunikacji przez GPS. Dlatego 3D GPS jest bardziej odpowiednią dla spycharek, które wykonują prace wstępne wymagające mniejszej precyzji.
Oczywiście w każdej opcji sterowania laserowego wymagana jest sprawność układu hydraulicznego nośnika.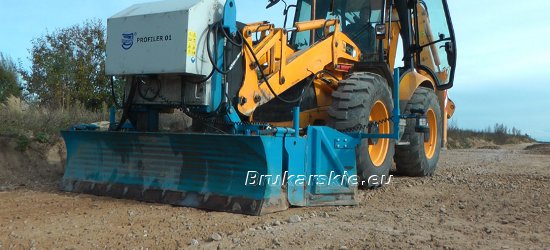 Profiler Jazon - współpraca z koparko-ładowarką JCB
Łata automatyczna Profiler Jazon - dane techniczne:
Łata występuje w kilku wykonaniach
Profiler 01/ 2.0 m: szer: 200 cm + 50 cm klapy boczne
Link do sklepu - łata Profiler 01/ 2.0 Jazon
Profiler 01/ 2.4 m: szer: 240 cm + 50 cm klapy boczne
Link do sklepu - łata Profiler 01/ 2.4 Jazon
Profiler 02/ 2.4 m: szer: 240 cm + 50 cm klapy boczne
Link do sklepu - łata Profiler 02/ 2.4 Jazon
Kąt wychylenia bocznego lemieszy: max +/- 5o
Wysokość lemieszy: 50 cm
Ciężar własny:
Profiler 01: 1200 kg, Profiler 02: 1080 kg
Przystosowane do maszyn z pływającym układem hydraulicznym:
Parametry maszyny nośnej:
Masa minimalna: 5000 kg (udźwig dla Profilera 01 - min. 1300kg; dla Profilera 02 - min. 1100kg przy profilowaniu, 1600 przy transporcie materiału za pomocą łyżki profilera)
Wydajność układu hydraulicznego: 40 l/min
Wymagane ciśnienie układu hydraulicznego: 200 barów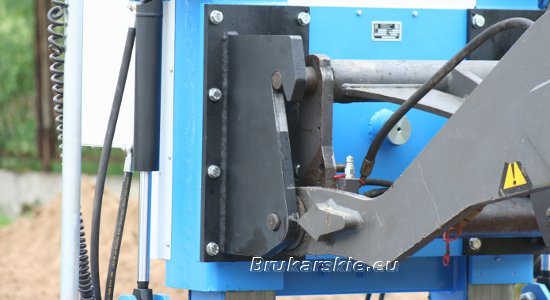 Profiler 01: widok na adapter mocowania do nośnik
Automatyczna łata drogowa Profiler - zakres dostawy:

Profiler - wybrany model, kompletny gotowy do pracy, w tym: siłowniki, elektrozawory, komputer pokładowy,
czujniki masztowe: 2 szt,
Leica Rugby 410 DG - niwelator laserowy,
Czujnik pochylenia poprzecznego,
kpl. przewodów, adapter (zawiesie) do wskazanego nośnika,
dowóz pod wskazany adres na terenie kraju,
montaż na nośniku,
szkolenie operatora z zakresu obsługi Profilera
oraz systemu pomiaru laserowego,
instrukcja obsługi, karta gwarancyjna.
Powyższy zakres obejmuje kompletację dla sterownania laserem.
Możliwy jest zakup Profilera w dowolnej konfiguracji: bez sterowania, ze sterowaniem czujnikiem ultradźwiękowym, laserem lub tachimetrem.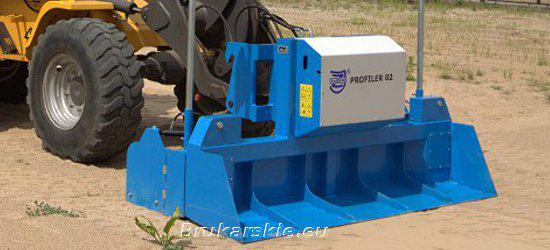 Profiler 02 Jazon

Niwelator Leica Rugby 410 DG - opis techniczny
Lekka i odporna obudowa ze specjalnego stopu aluminium
Zadawanie spadków w jednej osi - 5 do 25 %,
w dwóch osiach - 5 do 15 %
Dokładność +/- 1.6 mm/ 30 mb
Zasięg działania - do 750 mb (średnica)
Niwelator Rugby 410 DG
Ręczny czujnik laserowy
Akumulatory: 1 + 1 zapasowy
Ładowarka
Pilot zdalnego sterowania
Walizka
Statyw
Łata
Profiler 01, 02 Jazon i urządzenia towarzyszące
Dobrym uzupełnieniem Profilera na każdym palcu budowy będzie jezdna układarka zawieszana, szalunek ślizgowy oraz zestaw do tyczenia. Co do operatora - będzie czuł się wyróżniony pracując tak zaawansowaną maszyną, chęci mu nie zabraknie nawet w największe upały, pod warunkiem, że przy zakupie ładowarki nie zabraknie na klimatyzację - nasze lato bywa dokuczliwie upalne...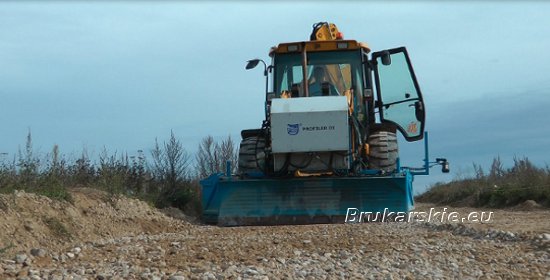 Łata Profiler Jazon: niwelacja podbudowy drogi ? warstwa tłucznia
Najserdeczniej zapraszam
Jan Głuszczuk artykuł z dn. 11-12, 23, 25.03. 2013 r,
Jan Głuszczuk - artykuł zmodyfikowany dn. 7.04.13 r.